Commodore Amiga Retro
Commodore ~ Retro Old Arrivals
List of additions to the collection
The scuzz collection welcomed...
This is the list of ' New Arrivals ' archived
at the beginning of November 2004

23rd October 2004 additions
80 PD Shareware Disks CPC 6128 Advanced Art Studio
Batman CF2 disk
Baseball CF2 disk
ZX Spectrum computer
Amstrad CPC464 computer
75 Amstrad games
Spectrum interface
Spectrum Complete Machine Code plus CF2 disk
Atic Atac - Ultimate
TLL - Vortex
5 Spectrum books
Boxed Microdrive cartridge

---
The scuzz collection welcomes...
17th October 2004 additions
Not specifically added this week, but quite a significant
addition to the web page was the photograph of my
assembled range of Amigas. Which was hard work but
very rewarding to put together. Click on `All Amigas` from
the menu for the bigger picture.
Also arrived this week...
Original Commodore mousematt
Fun Amiga mouse
Sorcery game for the CPC464
Amstrad Basic for the CPC464
Box of cartridges for the Spectrum Microdrive
---
The scuzz collection welcomes...
10th October 2004 additions
A4000T
Central Processing Unit: MC68060 49.9 MHz (rev 1)
1 WarpUP Processor(s): PPC 604e 200 MHz (rev 2.4), 66 MHz busclock
Floating Point Unit: 68060fpu 49.9 MHz
Memory Management Unit: 68060mmu running
Custom graphics chip: AGA Lisa 4203 (rev 0)
Custom animation chip: AGA PAL Alice 8374 2M (rev 3-4)
Other custom chip(s): Paula 8364 (rev 0), Ramsey (rev 15), Gary (rev 0)
Graphics system: Picasso96
Graphics board(s): Picasso IV [Paloma Concierto]
Soundcard(s): Concierto
Hardware Clock: clock + battmem found, sunday 21-apr-2002 18:38:28
Max. Chipmem available: 2048 K
Max. Fastmem available: 130048 K
ROM chip version: 45.20 (Kickstart 3.9)
Workbench version: 45.3 (Workbench 3.9)
SetPatch version: 44.38
Expansion board(s):
5001/6: individual Computers/VMC HyperCOM Z4 (@$00E90000 64k)
4626/23: individual Computers X-Surf (@$00EA0000 64k)
2167/24: Village Tronic Picasso IV (@$40000000 32M)
8512/100: Phase 5 Digital Products CyberStorm PPC/MK III SCSI
(@$00F01060 128k)
Cyberstorm PPC serial #: DCC0270

SCSI Zip Drive
Big box of CU Amiga and Amiga Format CDs
Brilliance - software boxed
Photogenics - software boxed
Paperboy - game
3D Construction Kit - software boxed
Directory Opus 5 - software
Two dozen CF2 disks
Protext software
Sinclair Microdrive
Spectrum +3
Spectrum +3 power supply
STOS - software boxed

---
The scuzz collection welcomes...
2nd October 2004 additions
All mint boxed and with cellophane outers. The
boxes are the originals with manuals and disks...

ImageFX by Nova Design with the thick manual.
Its only Rock`n` Roll - Electronic Arts
Deluxe Library Arts Parts Vol 1- Electronic Arts
Deluxe Paint - Electronic Arts
Scala Computer Television April 1993 with various disks.
CanDo - InovaTronics MASSIVE box. ( thumbs up )
Deluxe Photolab by Digital Creations Inc
An A8802 Rendale Genlock plus user manual.
Animage Composing Software - ProDAD
Professional Page - Gold Disk
Mavis Beacon Teaches Typing - The Software Toolworks
Cashbook Controller -Digita
Video Studio Production Toolkit ZVP Video Studio
Award Construction Kit
Aegis VideoScape 3D
Showmaker - Gold Disk
Helm Creative Software - Eagle Tree Software
CDTV Multimedia Toolkit CD
Network CD by Weird Science
Amiga CD Magazine
Nigel Mansells World Championship - Gremlin
A pre-production copy of Amiga Pro in which Norman
was the video editor.
A Eureka Communicator for the CD32 - Midi Controller
Introduction to DTV by Norman himself.
GLOCK High Performance Genlock by GVP
Limelite Tyro by Future
Hyperbooks by Gold Disk
Communicator II by Eureka disks
Communicator II by Eureka CD
Digital Creations TV hardware and software.
Modeller 3D - Aegis
Interplay - Optonica
AMINet - The Computer Interconnection System
Monument Designer - ProDAD
Proper Grammar II - Softwood
Performer - Elan
MediaPoint
Art Department Professional
Broadcast Titler
Adorage
Network Cable and disk by Weird Science...


Ishar 2 - Silmarils
Test Demo Disks - 1541, 1551, 1570, 1571
Organize - Micro System Software
ZX81 Manual
1531 Boxed Datasette

With special thanks to Norman
---
The scuzz collection welcomes...
26th September 2004 additions
Sinclair

Evesham Micros Floppy Drive
Microscribe Lightpen
C By Example - Book by Greg Perry
Gods - Game by the Bitmap Brothers
SimEarth game - Maxis
Campaign - Game by Empire
Amiga C Manual - Blitterchip PD disks
Easy Amos - Europress boxed
Amos Compiler - Mandarin boxed
6 copies of the AMOS Club Newsletter
Boxed Turbo Datacorder - Dragon Technologies
20 CF2 blank disks
Terminator boxed C64 computer plus datasette
Sinclair QL boxed
Sinclair +3 boxed
Nintendo modem adaptor

---
The scuzz collection welcomes...
18th September 2004 additions
Commodore C64C Boxed set Light Fantastic
Deluxe Paint original in original sleeve
Boxed game Paperboy2
Boxed version of Pagesetter
Boxed version of Easy Amos
Boxed Infofile
Boxed game Kickoff3
Boxed game Soccer Kid
Boxed vesion of Kindwords
Boxed game Detroit
Replacement A1200 floppy drive
Replacement A1200 keyboard
Replacement A1200 motherboard
Amiga Workbench & AmigaDOS Reference
Boxed Spectrum +2
Dreamcast DC VGA Cable
Dreamcast game Lodoss War
Dreamcast game Urban Chaos
Dreamcast game MSR
Dreamcast game Vanishing Point
Dreamcast game Starlancer
Dreamcast game F355 Challenge
Dreamcast Dreamkey3
PC9512 software Locoscript 2.16
PC9512 software CPM Plus
PC9512 software Locoscript 2.29

---
The scuzz collection welcomes...
2nd September 2004 additions
M-TEC AT-500 hard drive and memory expansion
Amiga Power magazines
80 Amiga User International cover disks
4Mb memory expansion for the Dreamcast
1Mb memory expansion for the Dreamcast

---
The scuzz collection welcomes...
28th August 2004 additions
3.1 ROM chips for the A1200
Domain site and software
Dreamkey3 for the Dreamcast

---
The scuzz collection welcomes...
14th August 2004 additions
Iomega 100mb ZIP Drive
Insider Guide to the A600 ~ Bruce Smith
A600 Computer
A600 Computer
A600HD Computer
VIC-1210 3K RAM Cartridge
VIC-1211A Super Expander
Commodore Horizons ~ 2 magazines
Your 64
Commodore Format ~ 7 magazines
Commodore User ~ 6 magazines

---
The scuzz collection welcomes...
31st July 2004 additions
450Mb IDE 2.5" hard drive
1Gb SCSI hard drive
2.2Gb SCSI hard drive
Centronics cable
James Pond 3 boxed - Millennium
SIM ANT boxed Maxis
Two Commodore disk storage boxes
27 games for the C64 ( tapes )
Commodore 64 Micro Guide
Very Basic Basic - Derek Ellershaw
Commodore 64 Whizz Kid - Geof Wheelwright
Simons Basic - Commodore
100 Programs for the Commodore 64 - John Gordon

---
The scuzz collection welcomes...
25th July 2004 additions
An A600 and PSU. See my earlier posts.
A big box of 5.25" disks, over 120 disks.
A 5.25" disk box with 12 no. 5.25" disks.
Sensible Soccer boxed.. European Champions.
Jurassic Park boxed.
A Tecmar external SCSI box for the A1200.
An original Atari controller.
5 games for the C64
Blizzard 1230IV Turbo accelerator for the A1200.

---
The scuzz collection welcomes...
17th July 2004 additions

Commodore 1570 floppy drive
Commodore 1541 floppy drive
Faaastprep 2.0 User Guide and floppy disk software
YC Computer magazine for June 1991
Batman game by the Hit Squad boxed
The Designer`s Pencil by Activision C64 Software boxed
Mini Office II by Database C64 Software boxed
Commodore 64 Go Micro Family Computer Pack Software boxed
Amiga C for Beginners by Abacus book
SIM ANT game by Maxis boxed
Replacement DD floppy drive for the A1200
A2000 GVP HD+8 SCSI and HD controller card
ZX Spectrum +2 User Manual
Nintendo 64 Games System boxed
Nintendo 64 controller
---
The scuzz collection welcomes...
9th July 2004 additions
Amiga A1200HD 80MB hard-drive computer
The actual Siren Software hard-drive install guide.
Clear plastic joystick.
Black new style Amiga mouse.
Analogic power unit ( new )
Boxed Game: UFO
Boxed Game: Settlers
Boxed Game: Alien Breed
Boxed Game: K240
Boxed Game: Realms
Boxed Game: Sim City
Boxed Game: Premier Manager 2
Boxed Game: Premier Manager
Boxed Game: Premier Manager 3
Boxed Game: Dune II
Boxed Game: World of Lemmings
Boxed Game: Sleep Walker
Boxed Game: Valhalla Lords of Infinity
Boxed Game: Valhalla The Fortress of Eve
Boxed Game: Timekeepers
Boxed Game: Valhalla Before the War
Siren Software Install Disks
A1200 manuals
Boxed Game: DNA
Official Game (no box ): Elite II
Official Game (no box ): Civilization
Official Game (no box ): Space Crusade
Official Game (no box ): Tetris
Official Game (no box ): Armour Geddon
Official Game (no box ): Detroit
Official Game (no box ): Bograts
Plus a number of cover disks.
Sega Megadrive boxed.
Sega Megadrive game FIFA 95
Atari 2600 Video Computer
Atari 2600 game - Air Sea Battle
Atari 2600 game - PAC-Man
Atari 2600 game - Pele`s Soccer
Atari 2600 game - Chopper Command
Atari 2600 game - Centipede
Spectrum +2
Nintendo 64 Perfect Dark
Nintendo 64 Quake II
Nintendo 4MB expansion pack
A1230 Turbo+ manual

---
The scuzz collection welcomes...
4th July 2004 additions
Has been more about the week that wasn`t
sadly. I had banked on one major item but
this was withdrawn at the death.... ar hum!
Two games arrived though, Elfmania and Gods
---
The scuzz collection welcomes...
26th June 2004 additions

Boxed A500 with seals un-broken
Moonraker joystick
Cheetah 125+ joystick
A520 User`s Manual
Microprose 1990 catalogue
A2000/A500 Amiga Basic
AmigaDOS 1.3 Enhancer Software
A500 User`s Manual
Back to the Future II
Crash Garrett
VIC20 Cartridge 1912 Mole Attack
VIC20 Cartridge 1909 Road Race
Aminet CD Collection Set 3
The DeluxePaint IV Video Guide
Advanced Techniques with DeluxePaint IV Video
Commodore PC keyboard
---
The scuzz collection welcomes...
19th June 2004 additions
A1200 with hard-drive, Cumana external drive,
power unit, mouse and scart connectors
Deluxe Paint II with disks and manuals
A1200 User Guide, AmigaDOS, Workbench 3.0 manuals
Amiga Format book, Screen Play
Amiga Format book, Get the most out of your Amiga
Whale`s Voyage CD32 game
Microcosm CD32 game
Heimdall 2 CD32 game
Alien Breed 3D boxed game
Commodore C64 interface Model P-16
Heimdall boxed game
Populous II boxed game
The Working Commodore by David Lawrence
Amiga Format issue 9 for April 1990
Amiga Format issue 10 for May 1990

---
The scuzz collection welcomes...
12th June 2004 additions
HAM-E Blackbelt offering 24Bit Graphics for the A500
Cannon Fodder and other CD32 titles
Sycro-Express II and X-Copy with dongles
Magazines including `Shareware Shopper`
Plus various cover disks and box of used disks
---
The scuzz collection welcomes...
5th June 2004 additions
This week I ventured `up-north` to collect
a rare A1500 Checkmate computer and aquired
all of the below in the bargain....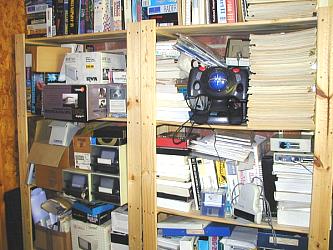 Wonder-Wall
Not a bad weeks collecting

Amiga
Power access box
Microtext teletext adaptor
AF880 external 3.5" floppy drive
Data switch - printer to scanner
Golem - 5.25" Diskdrive
A1500 Checkmate computer
1084S monitor boxed
C2N Cassette Unit - boxed
VIC-20 Colour Computer - boxed
QuickShot IX Deluxe Joyball Controller - boxed
A590 from Gordon Harwood half meg XT20Mb hard-drive
Deluxe Paint IV - boxed
The Works - boxed
Amiga Release 2 - Getting Started
Microtext for the Amiga
Amiga 590 RAM Test Guide
Amiga 590 User Guide
Postman Pat - boxed
3D Construction Kit - boxed
Virus Killer - Practicad boxed
Robin Hood - Millenium boxed
LED Storm - Capcom boxed
Screaming Wings - Redhat boxed
Hellfire Attack - Martech boxed
Time and Magic - Mandarin boxed
Pro-Powerboat Simulator - Codemasters boxed
Headomax - Disk Drive Cleaning Kit plus manual
Socery Plus - Virgin boxed
Team Yankee - Empire boxed
Spritz - UK Best
DOS - 2 - DOS - boxed
Lancelot - Datasoft boxed
Dungeon Master - FTL boxed
Fantavision - Broderbund boxed
QTEC 3.5" external disk drive - boxed
A590 power supply
Amiga The Workstation manual plus software
Introduction to the Amiga 500 - book
Amiga Enhancer Software - book
Amiga Kickstart 1.3 Workbench - boxed software
AmigaDOS Quick Reference - Abacus
Amiga Transformer - manual
Commodore 1084S - manual
Amiga Programmers Guide - Stephen Levy plus receipt
Collins Dictionary of Computing - Ian R Sinclair
Amiga Format - Get the most out of your Amiga
Amiga Basic - Microsoft Basic for the Amiga
Comic Setter - Gold Disk boxed
Deluxe Paint III - Electronic Arts boxed
Oh No ! Not more Lemmings - Psygnosis boxed
Megachip 2000/500 chip RAM expansion boxed
Amiga Multistart II V2.0 Kickstart ROM boxed
Commodore Amiga Release 2 - RAM upgrade and binder boxed
A`Ship - switching power supply
Amiga Synchro Express II plus dongle - Datel Electronics
Commodore Joystick - boxed
Amiga Handy Scan Interface - Datel Electronics
Amiga Handy Scanner plus softwaer and manual - Datel
Podscat - tablet reader
Naksha mouse
Commodore 16K RAM cartridge VIC-1111
Competition Pro 5000 Joystick - boxed
VIC-1907 cartridge - Avenger
VIC-20 Games ~
Beast of Eden - Livewire
Cosmonaut - Melbourne House
Air Combat Emulator - ATE
Triad - Livewire
VIC-20 Presentation Games - Commodore
The Wizard and the Princess - Melbourne House
Sparklers - Fourth Encounter
VIC-20 Race - Commodore
Frog - Interceptor Software
Max - Anirog Software
3D Timetrak - Anirog
Wacky Waiters - Imagine
Arcadia - Imagine
RIP Game - Mastertronic
Phantom Attack - Mastertronic
Trained Assasin - Digital Magic boxed
Batman - Ocean boxed
Workbench Management System - TTR boxed
688 Attack Sub - Electronic Arts boxed
War in Middle Earth - Melbourne House boxed
Gunship 21st Century Warrior - Microprose boxed
Raider - Impressions boxed
The Hitchhikers Guide to the Galaxy - Infocom boxed
Lombard Rally - Mandarin boxed
Chariots of Wrath - Impressions boxed
AMOS The Creator - Mandarin boxed
Bombuzal - Image boxed
Wicked - Electronic Dreams boxed
Pacmania - Grandslam boxed
Puzznic - Ocean boxed
Impact - ASL boxed
Warlocks Quest - Smash boxed
MIG-29 Soviet Fighter - boxed
Dizzy Treasure Island - Codemasters boxed
Emerald Mine - Kingsoft boxed
Stampede disk based magazine Issue 1 July 90 plus disks
Stampede disk based magazine Issue 2 Aug 90 plus disks
Rampage ( formerly Stampede ) Issue 3 plus disks
Rampage ( formerly Stampede ) Issue 4 plus disks
Rampage ( formerly Stampede ) Issue 5 plus disks
VIC-20 Presentation Programmers Manual
VIC-20 Programmers Reference Guide - Commodore
Personal Computing on the VIC-2
VIC 1915 Cartridge - Pirates Cove boxed
C2N Castette Unit - Operating Instructions
VIC-20 - How to connect your VIC-20
VIC-1919 Sargon II Chess Cartridge - boxed
The Tomb of Drewan - VIC-20 game Audi Genic boxed
VIC-20 An Introduction to Basic Part 1 - boxed
X-COPY Professional plus dongle - boxed plus software disks
C-Light - manual plus disks Artronic
All Workbench disks
3 button mouse
Commodore computer keyboard cover
Flight Path 737 - Anco
Zool - Gremlin boxed
Official Amiga Computing disk box
Original Commodore Mouse in box
Amiga 520 modulator in box
A500 original box and inserts
Podscat drawing tablet and plotter pen
Operation Steath - UK Gold
Jump Jet - Anco boxed
Amiga Tricks and Tips - Abacus
Several diskboxes full of disks
Several smaller diskcases packed with disks
Boxes of 5.25" disks
Three large disk drawers full of sofware.


For the PC
Mitac Win-Works - Windows
Intel Processor box
Picture Publisher - manual and software
Daily Mail 100 Amazing Years - CDRom
elegance Clip Art - Iris Graphics boxed
Elegance Tiles - Iris Graphics boxed
Icon Do It - Moon Valley Software
Contact Mate - Productivity Software
Screen Craze - Gold Disk boxed
Screen Craze II - Gold Disk boxed
Serif PagePLUS 3.0 boxed
Professional Draw - Gold Disk
Labels Unlimited - Softkey boxed, book plus software
Instant Calendar - Softkey boxed, book plus software
Floor Plans Plus 3D - CEI Book plus software
Announcements for Windows - CD plus manual
Microsoft Workgroup - Add-on for Windows boxed
Eseential Collection - Shanghai Activision boxed
Pair of Alba speakers on stands
InMAc 6A - Surge Master
4 Gang socket
Tea Kettle power strip
Ultima Underworld - Origin boxed
MIG-29M - Domark boxed
Lord of the Rings - Interplay boxed
Ultima V - Warriors of Destiny Mindscope boxed
Microsoft Disk Operating System - manuals
Microsoft GW-Basic - Book Microsoft Press
Instant Fonts - Softkey disks and manuals
Power Album - Softkey
Microsoft MSDOS Version 4 - Microsoft big box plus software
Microsoft Flight Simulator plus MS-DOS 6.2
Nakkai 5" B/W TV with radio - all in original box
Irwin Accutrak - 250MB Parallel port Tapestreamer in box
Microsoft Works for Windows Userguide - Mitac
Mastering DOS-5 - Judd Robbins
Optibase Jpeg Workshop Manual - Addstar
Timeworks for IBM PC and compatibles - GST Software
MicroGrafx Picture Publisher 3.0 LE - disks
Timeworks Publisher 3 - GST
The PC User Survival Guide - M&T books
NOVEL - DrDOS 6.0 - Quick reference guide
Getting the most out of your PC`s hard disk - JW Penfold
The Concise Users Guide to Windows 3.1
Paintshow - manual
Microsoft Word 5.5 - disks and manual
Daybook plus Toolbook - software
Diagnostic Disk Set 2 - Mauritron Tech Services
MITAC M1420/M1420A - colour monitor manual
Avery Label Pro for Windows - software plus manuals
Colorado Back-up Tape Stream - software plus manuals
Labels Unlimited - boxed software plus disks
Colorado Back-up Tape Book - software
Newsmaster II - Unison World boxed
Timeworks Desktop Publisher - boxed
Auto-route Express - Next Base boxed
Certificate Maker - Springboard boxed
Acetek Mouse - boxed
Uninstaller 2 - Contemporary software and manuals
Supestor Pro .2x - data compression software
AVR Color and Grey Scale Scanner manual
DrDOS 6.0 Digital Research - box and manuals
Sound Blaster - version 2 Creative Labs - card mint in box
AnalEDGE - joystick boxed
PCX Clip Art - Professional Plus
Serif MASTER DTP - starter CD-ROM
Serif Mega Art Pack - CD-ROM
GIF Clipart - CD-ROM - Professional Plus
HALO - Desktop Imager Media Cybernetics
Epson - Colour-in and Colour-out
PC Productivity Bible - Jim Seymour
Learning Coral Draw - Corel
Inside Corel Draw - Fourth Edition plus disks
Using Word for Windows - Special Edition QUE
CD-ROM Clipart Symbols - Corel
Mudulion PR. Air Ioniser in box
Voyetra Wave 16 - Multimedia Toolkit
HiPoint Mouse - alternative of laptops
Skylight Version 1.1 - manual and software
PagePLUS Desktop Publishing - books plus software
Microsoft Mouse
Timeworks Publisher - Adobe Type Manager - GS7
Glentop The Desktop Guide - John Walker
Coral 250Mb Back-up unit in box
Deluxe Magnifier Lite
Quick Drive Unit
Best of Windows Games - CD-ROM
The Sun - crosswords
The Printer Companion - CD-ROM
Making Tracks - CD
The Complete Windows Collection - CD
Coral Draw 3.5" disks
Coral Draw CR-ROM
Microsoft 95 - Demonstration Disk
Boulderdash II - First Star boxed
Boulderdash - First Star boxed
Coral Draw II - upgrade boxed
Virus Killer - 3.5" On-Line boxed
Lotus Smart Suite - Big Box Edition The full works
AVR Scanner
MITAC - PC Monitor
PC with 5.25" drive, 3.5" drive and CD Player
Ergonomic shaped keyboard
Quickshot - Flight Simulator as in aircraft cockpit - joycontroller
I Hate Word for Windows - Susan Weixel
Microsoft Windows - Version 3 full box and manuals
Using Coral Draw 4 - complete reference book QUE
The Technical Guide to Windows - Patrick Coleman
P1200 Owners Manual
XB24-10 Users Manual

Plus a box full of connectors, cables and
leads. I also have not listed the many cover
disks that I need to add to my collection

I include the PC equipment to show the whole
collection as it was found, and obviously the
two systems were running side by side


Also this week I received:

Marvins Marvellous Adventure - CD32
Four copies of Amiga `The One` with cover disks
Three copies of Amiga Active with cover disks
And still yet more goodies to come...
---
The scuzz collection welcomes...
29th May 2004 additions
FastTrak and FastCard Hard Drive
---
22nd May 2004 additions
Commodore C64GS Games System
1581 3.5 inch Disk Drive
1571 5.25 inch Floppy Disk Drive
1541 5.25 inch Floppy Disk Drive
Approx 2 dozen books
Box of Cartridges
Commodore 1351 Mouse

---
The scuzz collection welcomes...
19th May 2004 additions
A690 motherboard for a rare A690 CD Interface
Selection of Amiga chips
VIC-20 paddles in original box
Amiga Format A1200 Video Tutorial
Program Design Techniques - Paul Overaa
AMOS In Action - Anne & Len Tucker

---
Latest Additions May 8th 2004
Amiga Vision Authoring System - Interactive Media Software
50 Public Domain disks
Multiface III Multi IO Card
Commodore 500 - Introductory Video
Cameron Handy Scanner
Amiga System Programmers Guide
100 new DD floppy disks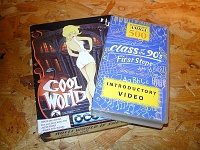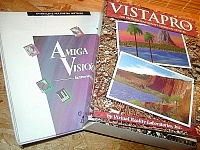 ---
Latest Additions May 04
Several packages of cover disks
New boxes of DD Disks
A500 workstation tidy
Game Cool World
GEOS 2.0
1541 floppy drive boxed
Cool Commodore floppy box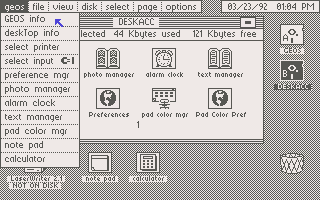 The Geos 2.0 Interface
---
Latest Game Addition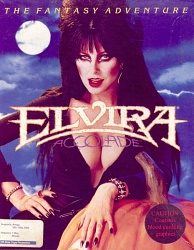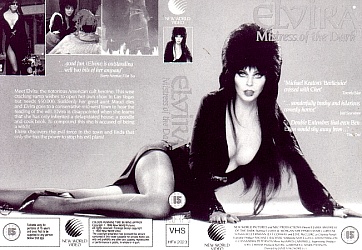 Elvira
---
New Arrivals ~ 14th Feb 2004
The Sanctuary welcomes the following:
Various cover disks and CDs
Full set of Amiga Active disks
A590 boxed hard drive for the A500
Boxed MPS 803 Printer
Amiga 1010 Floppy Drive
1541 Floppy Drive
Commodore 64 Modem
Microsoft Multiplan for the C64
Tasword 64 for the C64
Plu4 with 1551 floppy drive and MPS803 printer
C64 with various games

---
New Arrivals ~ Up to 2nd Feb 2004
Commodore Plus4 in original box
GVP Impact Series II for A500 in box
VIC-20 Computer
Various Commodore 64 Books
Amiga Logo software and manual
Hudson Hawk game
A500 Plus computer
VIC 1541 floppy drive

---
New Arrivals ~ 21st Jan 2004
The Sanctuary welcomes the following:
VIC-20 16K Switched RAM Pack
VIC-20 Computer: Video connector, datasette, power, 16K-RAM
Commodore Music Maker
Official Amiga A590 RAM Test and Setup Disk
Commodore 1570/71 Disk Drive Users` Guide
VIC-1926 Games Cartridge - Menagerie

---
Why Collect ?
My answer is ... `why not ?`

When you have been around computers as long as I
you get somewhat tired of the same old stuff
constantly being churned out by the big software
houses and hardware manufaturers. And its not
cheap to keep up with the pack. No sooner have
you got your new version of Metal Gear Solid,
than you find a better version about to hit
the shelves. At £30 - £40 a shot that can become
quite an expensive. Add to that the game manual,
which to be honest is essential, particularly for
games like Final Fantasy, and your talking about
shelling out over £50. So when you reflect on this
and consider the joy of winning stuff off Ebay
for a fiver, then you start to think... `maybe
its time to stop `.

And so, I spend probably much less now on my hobby
and finish up with a constant flow of boxes of
retro goodies to keep me occupied.

Obviously, not practical for everyone, but I got
the space ( just ) and I have no other interests.
So instead of £10 on booze, its a few games
cartridges and maybe a VIC-20 system off the Bay.
Instead of new computer hardware and software
its older computers, software and peripherals
for me now.

Am I mad; yes, probably. But ( big but ), once you
have the gear you never have to again say...

`I used to have one of those.... `

As to what I collect... well pretty much anything
related to Commodore. I love SCSI interfaces, hence
the name scuzz, and would promote the concept of
plug-in, plug-out peripherals, which you can easily
swap out to all manner of machines, in preference
to internal fixed hardware, any day of the week.

What I don`t like ... `Printers` I hate printers.
I see no point of a printer when you have a computer
and a monitor. I got a computer to get rid of paper.
So I`m pretty much paperless.

My favourite computer The Amiga A1200
Simply the greatest computer ever designed
I mean that sincerely. The whole unit is a
design marvel. Nothing has been left to
chance and unlike modern computers, the design
flows through each and every part of the computer
from hardware and even through into the OS

My most treasured item ?Beside my 1993
A1200 I would have to say its my original Microvitec
monitor, I would hate to lose either. Add to that
my configuration for DOpus4 and my own icon
collection and that would pretty well sum up my
most treasured items.

What won`t I collect ? Towers, towered up
Amigas, other than the A3000T ( and A4000T made by
Commodore ) I really cannot get my head around
taking apart a perfectly good Amiga and turning
it into type of PC. Everyone to their own I guess

Whats left to collect ? Tons of stuff...

All I long for is happy computing days, and
that means getting off the fast train and
watching it fly off in the distance, with
a big smile on your face....
---

If you can only see this CONTENT window
then click the image above for the full site
Last updated 07/10/06