Commodore Amiga Retro
So you bought an A2000
What next ?



Fitting an SCSI controller and drive
Part 2 ~ second hard drive acquired
You may recall that last time I attempted this I failed
due to a faulty hard drive. The card appeared to work
but sadly the hard drive was all burnt out
A few months back that, and now we revisit the A2000
this time with a Quantum Trailblazer 850MB SCSI drive
Quantum Trailblazer 420/850S
At the factory, Quantum configures the Trailblazer
420/850S hard disk drive with termination enabled;
that is, with a jumper installed across the pins
labeled TE. To disable termination, remove the
jumper from the TE pins.

Note: There are no Termination Resistor Packs to
remove on this drive.

SCSI-Bus Device Identification (A0 - A2) Jumpers
Used in combination, the jumper settings across pins
A2, A1 and A0 determine the Trailblazer 420/850S
hard disk drive's SCSI-bus device I.D. By default,
Quantum configures the drive with a SCSI ID of 6;
that is, with jumpers installed across the pins
labeled A2 and A1, and no jumpers installed across
pins labeled A0.
A2 A1 A0 SCSI ID
OFF OFF OFF 0
OFF OFF ON 1
OFF ON OFF 2
OFF ON ON 3
ON OFF OFF 4
ON OFF ON 5
ON ON OFF 6

Impact Series II 2000 HC+8
A full length Zorro II scsi card which contains 8 x 30pin
SIMM slots with 2MB fitted at this time. The card also
enables the hard drive to be mounted directly onto the
unit. The card was often supplied with a SCSI hard drive,
usually a 52MB Quantum, however in this instance it has the
850MB Quantum fitted.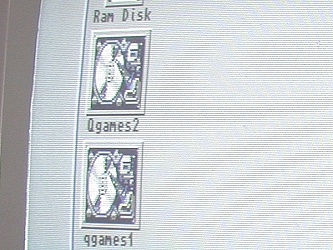 And whoopee, the hard drive is found. There is no Workbench
on the disk, and therefore this was not used as the primary
drive. All that is needed is to set the boot priority and
copy over the Workbench 2 disk
Such joy ! The disk is partitioned into two halves and
with each crammed with games. Result !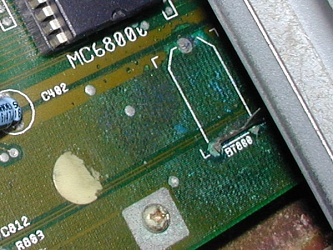 Battery Check
Or as in this case... Not a battery check
I had been worried about this battery and as
a consequence removed it from the motherboard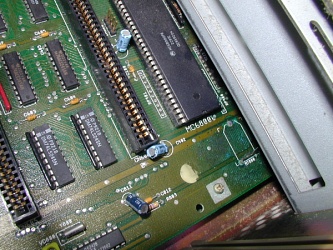 There is really no problem with not having a battery
on the A2000. Just means there is no clock facility
Rather that than lose the computer.
And so we now have the A2000 with hard drive, SCSI and
extra RAM.... how cool is that ?
So you`ve bought an A2000

So you want to fit extra RAM and an SCSI controller ?
And while your at it pop in a hard-drive for good measure
---

If you can only see this CONTENT window
then click the image above for the full site
Last updated 07/10/06