Commodore Amiga Retro
AMIGA WORKSTATIONS
Workstation 1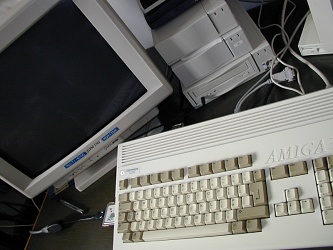 Workstation 1 has my classic original Amiga now fitted
with external SCSI hard drives, ZIP, modem etc etc and
running a Blizzard accelerator with SCSI Kit expansion
The monitor is a 17" Microvitec. The Amiga is linked to
the network via a PCMCIA adaptor card.
I use this Amiga to store all my Amiga files and programs
Being networked and having the CD, ZIP, high density floppy
gives me every option for file transfers.
Workstation 2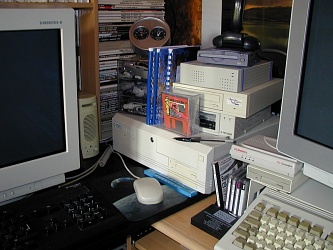 There are five Amigas around this workstation, the A500
A600, A2000, A1200 and A4000d. In the picture you see
the A1200 and the A4000. This is where I do most of my
Amiga mailing. The A4000d has a PicassoIV graphics card
and comfortably surfs the net. The A1200 is kitted out
with external SCSI off the Squirrel and runs OS3.9
These Amigas are in the Workshop, which is where I do
all my repair and photography work. A very besy place
Workstation 3
There are two Amigas at this workstation. This is my reference
room, with all my books and CDs and software stacked to the
ceiling. I have a tower in the room running 3.1 and fitted
with CD, ZIP and high density drive, plus 2 hard drives.
The A4000d is fitted with Picasso and running OS3.9. I
currently use this machine for programming exercises. Mostly
though these workstations are used to decrunch files from
the PC and copy stuff to disks.
COMMENT
If you thought by using an emulator you were running
an Amiga, you are sadly mistaken. Anyone can run an
emulator. Part of the download junk world that exists
in current computing circles. True Amigans, have Amigas
Reflect on the images on this site, and particularly
those above, cus you can be a true Amigan. You really
just gotta want it bad enough...

Don`t emulate ... PARTICIPATE

Keep the Faith

For those that may have forgotten
---

If you can only see this CONTENT window
then click the image above for the full site
Last updated 07/10/06