Final Fantasy


Sadly Final Fantasy XIII was just not worth the wait
The creators decided to destroy the game and make instead
an utter load of boring linear nonsense. I don`t think I
shall ever forgive Square..... They have lost the plot
Click here for super-sized image | car_0410_025_l ~ car_0410_026_l ~ car_0410_027_l ~ car_0410_028_l
Click here for super-sized image | car_0410_029_l ~ car_0410_030_l ~ car_0410_031_l ~ car_0410_032_l
Click here for super-sized image | car_0410_033_l ~ car_0410_034_l ~ car_0410_035_l ~ car_0410_036_l
Click here for super-sized image | car_0410_037_l ~ car_0410_038_l ~ car_0410_039_l ~ car_0410_040_l

Click here for super-sized image | car_0410_041_l
.......... Fortunately we still have the original game
The greatest game of all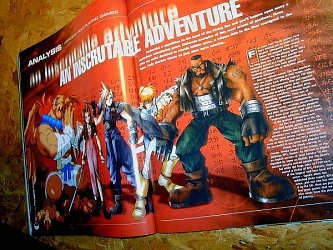 ---
FINAL FANTASY XII
Note the limited edition hard backed guide
From scuzzblog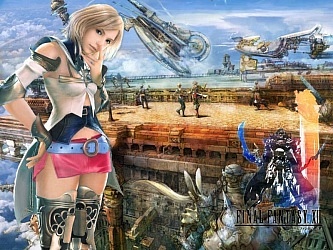 Ashe center stage but alone again

Well... I finished Final Fantasy XII. This was not
anticipated as I did expect there to be much more
to this game. I really don`t know how to rate this
game against the rest. In the end it probably was
the best game of its period, but, it lacked deep
substance that will sustain it over the years.

The game is massive, but not. The start is just
brilliant and I thought that we were going to be
treated to a kinda Shakespeare meets Lord of the
Rings. The blades and armour combined with a 
medieval plot line did suggest an epic saga. Sadly
though this gave way to monotonous levelling up
and less and less interactive story board stuff.
At times I just forgot what the hell the story
was. 

Anyway.. The story is the usual interplay between
ordinary kid fighting for his country; meets 
princess... er doesn't fall in love.. ( strange )
fights with assembled troop against all odds to
win the day. Mixed into this is the usual boss
fights, strange and wonderful creatures and the
odd assortment of side quests. Trouble is there
really isn't that much problem solving. And the
side quests are not character building. 

In terms of strengths, well, its incredibly well
done, and the graphics are breathtaking. The whole
feel is just magical. The fight engine has been
totally revamped and is classic, and the best I
have ever played. Sadly though the intricacy of
armour, weapons, skills etc have been reduced to
a reward process that to be honest is quite pathetic.
There really is no skill here. If you just level up 
and become strong you really don`t need any of the
vast array of magics. Also, all the characters can
do the same thing. What you find is that to seriously 
complete the game you just use three characters.

There is this thing called a gambit which allows you
to set certain tasks during battle, and this works
well. I ploughed through the skills and weapons
section, called Licences in no time, and at Level 50
I could really kill anything in one swipe.

The characters are very similar to all the characters
of old, except they really have tried too hard to
humanise everyone. Its all become very believable.
The old classics are laced through, though the 
' summoning ' is just pointless, and ' quickening '
has to be a last resort, or you are doomed to no MP. 

As to characters, well the final boss was just not
nasty enough. The star was this guy called Balthier
who I would have loved to have had a fling with Ashe.
Poor old Ashe finished up with Basch, and the main
character Vaan, well he just went back to school I
guess. Thing is Balthier kept saying all the way
through he was the main man, and yes he was. 

In the end this game was very very good, but not
brilliant, and I would say that FFX was still the 
most polished of the set. FFVII is classic, but for
being ground breaking. Still worth playing and if
you like gaming then its a must.

And for me.. Well I have started it all over again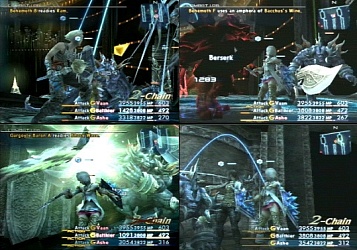 Ashe in action... Not very ladylike
Origins
---
Final Fantasy VI
---
Final Fantasy VII
---
Final Fantasy VIII
---
Final Fantasy IX
---
Final Fantasy X
---
Final Fantasy X-2
WonderSwan Final Fantasy Presentation Box

Dirge of Cerberus
FF VIII Figures
---
Final Fantasy - The Spirits Within
Click for link to page of Dr Aki Ross
---
Final Fantasy - Advent Children
---

Final Fantasy - XII
---
The Flower Girl
The saddest gaming moment
Aeris can be seen via her infamous
'ghost' in the Midgar Church.
[ quote ]
If 'After Aeris's Death' is selected, the game
will teleport Cloud to the Midgar Church, where you
will see a polygon of Aeris tending the flowers.
Should you try to leave the church, the polygon will
stutter before vanishing permanently. What we can
conclude from this? The 'ghost' of Aeris was
deliberately added by Square.
[ end quote ]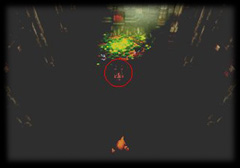 The death of Aeris in Final Fantasy VII was the
single most saddest event I have ever encountered
whilst playing a game. Whilst I can appreciate that
the purpose of her dying was to make you realise
her potent threat to the villain and the fragility
of life, I do believe that gaming is about winning
and like the word that her name can be re-arranged
to , raise, you should have been able to bring her
back. Interestingly this simple fact kept much of the
interest in the game beyond FFVII, and ultimately
Square had to make the film ' Advent Children ' to
try and lay the ghost to bed... ' I was never alone '
Cloud.. was never alone. Sadly for gamers, we only
have the responses to controls.. So I say.. ' Give us
back Aeris..' If only a sub-plot of a later game..Then
I can finally brush this tear from my game controller
We will not forget the little ' Flower Girl '
---

If you can only see this CONTENT window
then click the image above for the full site
Last updated 02:55 20/06/2015