Windows 95 PC
Lara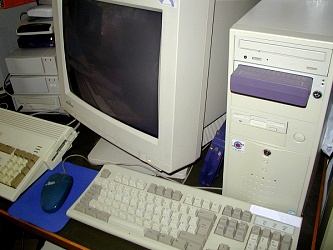 Lara arrived in the summer of 1996 as a Pentium 120
machine running Windows95. She had 16MB RAM and a
1GB hard drive of which 750MB was already full
when she arrived.
I expanded the machine very quickly to 32MB RAM.
Installed a SWAP bay 3.1GB and 6.1GB hard drive
Fitted a Iomega ZIP drive and introduced myself
for the first time to the web
The computer was also rigged out with SCSI and
a Black Widow scanner, which I still use
This computer ran back to back with the Amiga
for most of the time between 1996-2000
In these years, storage was a real issue and
the use of the Iomega range of kit for tape,
zip and then CD was exploited in a way that
I had grown use to with the Amiga. And that being
by external plug in. I rarely opened the computer
to add stuff, other than the SCSI, SWAP bay and
video capture card.
The computer is still used for scanning, as the
quality you get through the SCSI is the best.
---

If you can only see this CONTENT window
then click the image above for the full site
Last updated 28/08/07