SONY
Playstation 3
This week I have been mostly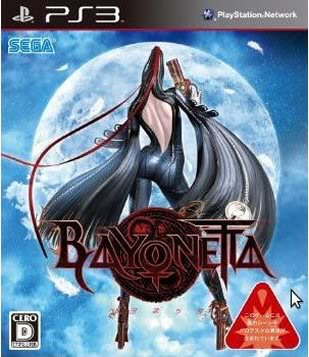 Bayonetta For classic button punching action with
an obscure but great story line you just cannot beat
Bayonetta. She is your classic overloaded sexy babe with
a serious attitude problem, and no morals. She is confident
powerful and unforgiving. Being a witch from the dark side
seeking out her past and pretty much killing everything
that comes in your way, you play to gain strength, skills
and weapons. Not many weapons I have to say. Everything
is bought from a shop in game from the devil.. and costs
a fortune. Fortunately you can track through some of the
earlier chapters in the game to earn cash. You get the usual
game trophies along with ingame awards. Beating the game
as ever unlocks stuff.
Bayonetta is the star, however. The animations are classic.
The one liners are laced with sexual innuendo. The artwork
is simply breathtaking, and the game is fluid and very
enjoyable. Loved it to death.
As to the plot... Well she is one of a kind. An Umbra Witch,
a human witch that made a pact with demons of the dark arts
There is this guy called Balder who turns out to be Bayonetta's
father who posseses something called the left eye. Bayonetta
has the right eye.. With both Balder can summon Jubileus the
final boss... There is a myth or treaty that if both the angels
and demons work together, there will be a big armageddon.
It's all about the balance of light and dark and who controls
this. Matters skip backward and forward through time as
Bayonetta tries to remember her past...Bayonetta struggles
through her adventure fighting those that seek out the right
eye which is a gem worn on her chest.
As ever with these style of games the story line is incredibly well
structured, and being Japanese about life and life forces
and who controls them. A titanic struggle between good and
eveil. Bayonetta, is tainted as an evil witch, and is constantly
reminded of this by one of the characters in the game.
All in all a splendid plot and a great concept.
PS3 Games
Now Playing
-o-
Click here for super-sized image | car_0410_250_l ~ car_0410_257_l
Uncharted 2 is a classic PS3 game
Action and adventure with a great storyline
Everything Final Fantasy XIII wasn`t...
Click here for super-sized image | car_0410_251_l ~ car_0410_252_l ~ car_0410_253_l ~ car_0410_254_l
Click here for super-sized image | car_0410_255_l ~ car_0410_256_l
Click here for super-sized image | car_0410_095_l ~ car_0410_096_l ~ car_0410_025_l ~ car_0410_026_l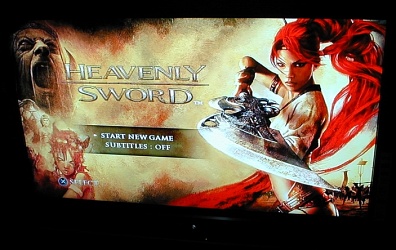 Nariko is just so sexy.... Heavenly Sword

My SONY Bravia HD TV
Click here for super-sized image | car_0410_058_l ~ car_0410_059_l


Click here for super-sized image | car_0410_093_l
SONY BRAVIA
Specs:
SONY KDL32D3000U Technical specifications
Please be aware that the features/specifications
can differ from country to country.

Video Signal
576i 480p 576p 1080i 720p 1080p 24p input
Timer Clock
Sleep Timer
On/Off Timer (with Clock setting)
Operating Instructions
VESA Mounting Holes
Remote Commander RM-ED009
Digital Amplifier
S-Force
Power Output (W) 10W + 10W
Sound Mode Dynamic/Standard/Custom
Steady Sound
Auto Volume Adjustment
Sound Booster
Speaker Off
Colour System PAL
Digital Audio Output (optical)
HDMI 2
HDMI 3
PC Input (15pin D-Sub) + Audio In
Component
HDMI
4 Pin (Y/C) In
Memory Stick Slot Service use only
MiniJack (Head/Earphone) (mm) 3.5
PCMCIA Card Slot
RCA Audio Out
RCA AV Input
RF In
Scart 1
Scart 2
Dimensions With Table Stand (W x H x D, cm)
79.0 x 57.7 x 21.4
Without Table Stand (W x H x D, cm)
79.0 x 53.0 x 10.0
On Timer OSD Menu
Parental Lock
Sleep Timer
Picture On Screen Contrast 1600:1
Dynamic Contrast 8000:1
Brightness 450
Response Time 8
Viewing Angle 178
Backlight WCG-CCFL
BRAVIA ENGINE
Input Skip
Light Sensor
Live Colour Creation
Motionflow 100Hz
Picture Mode Vivid/Standard/Cinema
Power Saving + Picture Off
14:9 Mode 16:9 Mode
AFD (Auto Format Detect)
Auto 16:9 (line 23)
Digital Comb Filter
Display Resolution (Pixels)
1366x768
Display Technology LCD
Picture In Picture
Picture & Picture
Picture Freeze YES (with PIP monitor)
Screen Aspect Ratio 16:09
Screen Size (cm) 81.3
Screen Size (inch) 32
Vertical Picture Stabiliser 81
Smart Mode Wide Zoom
Sound System B/G D/K I L NICAM
Teletext Digital Text
EPG (NexTView/Digital EPG)
Text Page Memory 700
Analogue Terrestrial Tuner
Digital Terrestrial Tuner (MPEG 2)
Digital TV Cable Tuner (with supported operators)
Favourite Channels
Channel Coverage CATV
Channel Coverage HYPER
Channel Coverage UHF
Channel Coverage VHF
Channel Skip
No. of Tuners 1
Station Labelling



Thinking ....KDL23B4050 for upstairs...
---

If you can only see this CONTENT window
then click the image above for the full site
Last updated 17:54 19/06/2015