NEWS - Now very old
This was the latest news for the Amiga scene for April 2004
Though there has been some movement toward revitalising
the Amiga, sadly little has found its way onto the high street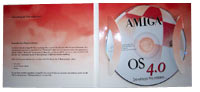 Exclusive pictures of the OS4 CD
OS4 Developer Pre-release photographs
of CD and packaging ...
---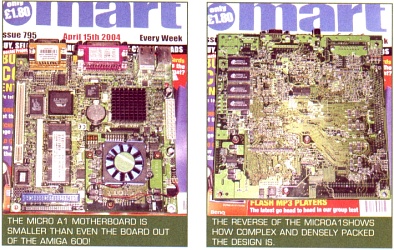 The Amiga Micro A1
Micro Mart April 29th 2004
`This is the Power-PC Amiga board that has caught
my imagination more than the others. The main incentive
for the development of this tiny board was Eyetech`s
industrial reliance on the small form factor CD32 and
A1200 boards in their kiosk and similar system products.
With the supply of these low power and stable systems
becoming extremely low, the need became apparent for a
replacement and Eyetech`s answer was a Mini ITX version
of the A1 motherboards.
.... The MicroA1 unlike the previous boards has an on board
Radeon graphics processsor as well as 5.1 surround sound, and
the consumer production boards will be coming with some RAM
also already on the board....
Of course the all in one nature of the board which includes
USB ports and an RJ-45 Ethernet port, along with its tiny
form factor, make a new Amiga home computer very possible,
which is a rather welcome side effect of the Micro A1`s
development.`
Full article Micro Mart April 29th 2004
Written by Sven Harvey..

---

If you can only see this CONTENT window
then click the image above for the full site
Last updated 07/10/06