Update: February 4th 2007 Subject 01: A4000 Stash: Surprising finds
Subject 02: Web Update : Photography continues
Subject 03: IBM PS/1 : Workings of the ' Darkside '
Subject 04: A4000T : Saddest Tale of All
Subject 05: A2386SX: Bridging on the A2000
Subject 06: More scuzz rants: Let's Go Round Again
Entry 0729: Blogs: 6

---

A4000 Stash: Entry 0729: Blog: 1

---

Surprising Finds



Just returned from my travels with a big box of Amiga kit which 
to be honest has caused me to rethink loads of what I was going 
to do here over the next month or so. Following winning the 
PicassoIV along with loads of other bits and pieces, I thought 
I would really only be putting this into storage until maybe my 
other card failed. I never really studied the auction that much, 
as I was too preoccupied with the Picasso. Anyway, the seller 
had broken up two A4000s for a friend and was selling the bits inside. 
They admitted that they didn't really understand the Amiga, and had 
already decided to dump the casings and motherboards, but sell off 
the bits. I was too late for the  other bits but retrieved more 
than I had bargained for really...

I had already been looking at whether I could use the A3640 on 
the A4000t and was dismayed that the card was the Rev 3.0 which 
made it useless. I need not have worried cus inside another bag I 
found a Cyberstorm MkII populated with 64MB RAM plus the MK II SCSI 
controller.. Whoo hoo.. Added to this was the Catweasel MK II plus 
module and I was starting to go all faint. My goodness. I soon 
realised that I had the basic components necessary to get the 4000T 
back on the road... Thing is these people thought that the cards 
were only worth a few quid, and were surprised at the value they 
went for. No doubt they too had realised some of the content.

This is not a complete list of what was inside the box, as I 
haven`t really looked at it all yet.. Loads of cables, port 
connectors etc to wade through.

A3640 Rev 3.0 ( sadly )
A2386SX Bridge Board
A4000 Daughter Board Rev B x 2
Catweasel Z-II Mk 2
Picasso IV Graphics Card Version 1.2
Oktagon 2008 SCSI Card
Cyberstorm MkII with 64MB RAM
Cyberstorm Mk II SCSI Module
Phase 5 MkII SCSI Controller
2 PSUs
A4000 Internal Floppy Drive
A4000 Keyboard
CDs
CLOANTO Amiga Forever 5.0
Cables
9 sticks of RAM
Install Picasso IV
SCSI Tool Kit
IDE-Fix

PS: As ever they were lovely people, with a house full of electrical
gear. Mostly MAC plus some real interesting stuff including microscopes.
I loved his reel-to-reel tape recorder. He also had a Husky Hunter...

Great times...



---

Web Update : Photography ongoing: Feb 4th 2007 Entry 0729: Blog: 2

---

The photography continues ...



Saturday morning and the ritual of setting up the workbench to
continue the photography. Takes me a while to move out of the 
way my beloved A500 with GVP sidecar and 1084 monitor, not least
because they are housed in a special workstation. I then erect my
screen to the rear and set up the lights. All this done I then
parade the items one at a time to the workspace to take the 
pics. The camera I use is an Epson PC 850Z which on highest
quality can manage only 11 to 15 pictures. So you can see the
whole process does take a while. Good camera all the same
especially the macro lense.

And today it was the turn of the Compaq Portable, Sega Mega CD,
Enterprise, OpalVision card and the Atari 600XL. I had to call
a halt to proceedings cus I had to travel to pick up the A4000
stash as described above.

I have now completed the computers stored in the lounge, I now
have to plough through the stuff in the small bedroom, which is
currently preventing me from getting on the Amiga in there.
This second part is the bigger challenge cus it involves a load
of small items, games, magazines, software and the like. I often
miss bits and pieces, like the Atari portable which is sitting 
in the hallway. 

I have determined that I will hold back on the update until I 
receive two items. These being the Atari 800 and the IMB PS/2
[ see below ]. There seems little point waiting to the next
update to add these. I can then transfer them to the vault.



Teaser
---
IBM PS/1 : Or Personal System 1: Feb 4th 2007
Entry 0729: Blog: 3
---
IBM PS/2 ... Workings of the ' Darkside '


Strange that I would be keen to add an IBM to the collection
especially as it runs the dreaded Microsoft Windows 3.1. The
thing is I love comparing dates of machines and OSs just to see
what was going on , on or around the same time of various machines.
It never fails to amaze me just to see how crap Windows was in
these days compared to the Acorn or Amiga software of the date.
The IBM range is the closest to the computers of its day cus
the OS was in many ways designed with the architecture in
mind. 

For those interested here is some blurb....

The IBM Personal System/1 designed for home use. Cost ranged from 
$999 to $1999, and made its debut on June 26th 1990. Powered by 
an Intel 80286 micro-processor and with either 512K or a massive 
1MB of memory. Drives were either 1.44MB diskette or 30MB 
hard disk. The unit also boast a built in 2400-bits-per-second 
modem. The machine was ultimately succeeded by the Aptiva range.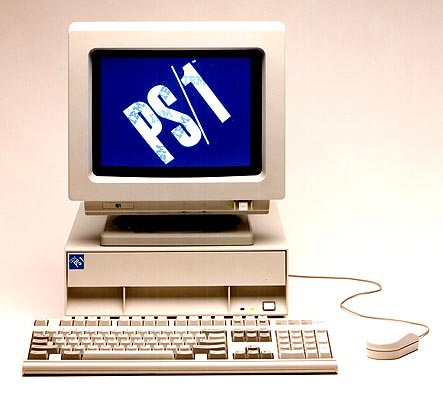 ---
A4000T : A Sad Tale: Feb 4th 2007
Entry 0729: Blog: 4
---
The A4000T: Saddest Tale of All


Some years ago I put an advert on Amibench for a Cyberstorm.
I gotta say I never really expected to get one but it was
worth a try. Nobody offered a Cyberstorm, but I did receive
an invite to buy a fully working A4000T. Trouble was the
computer was the other end of the country. Anyway, after
a month of deliberating I decided to venture north and 
buy the A4000T. The unit cost me a massive £725. The machine
was the specification below...


The A4000T Specification 

Central Processing Unit: MC68060 49.9 MHz (rev 1)
1 WarpUP Processor(s): PPC 604e 200 MHz (rev 2.4), 66 MHz busclock
Floating Point Unit: 68060fpu 49.9 MHz
Memory Management Unit: 68060mmu running
Custom graphics chip: AGA Lisa 4203 (rev 0)
Custom animation chip: AGA PAL Alice 8374 2M (rev 3-4)
Other custom chip(s): Paula 8364 (rev 0), Ramsey (rev 15), Gary (rev 0) 
Graphics system: Picasso96
Graphics board(s): Picasso IV [Paloma Concierto]
Soundcard(s): Concierto
Hardware Clock: clock + battmem found, sunday 21-apr-2002 18:38:28
Max. Chipmem available: 2048 K
Max. Fastmem available: 130048 K
ROM chip version: 45.20 (Kickstart 3.9)
Workbench version: 45.3 (Workbench 3.9)
SetPatch version: 44.38
Expansion board(s):
5001/6: individual Computers/VMC HyperCOM Z4 (@$00E90000 64k)
4626/23: individual Computers X-Surf (@$00EA0000 64k)
2167/24: Village Tronic Picasso IV (@$40000000 32M)
8512/100: Phase 5 Digital Products CyberStorm PPC/MK III SCSI 
(@$00F01060 128k)
Cyberstorm PPC serial #: DCC0270

Impressive to say the least...

I did play with the computer before I came home that
Sunday, and I was ever so slightly excited at the 
prospect of using this computer...

DISASTER.

Having set up the computer I tentatively switched her
on... Nothing. Nothing that is, other than this nasty
burning smell. I was gutted. Turned out that the fan
to the PPC had failed and the Cyberstorm was frazzled.
I spent a good while on the forum trying to establish
cause of death, but concluded that my dream was over.


Since that date I have acquired another ( brand new )
A4000T case to house the motherboard in, and have got
hold of a Cyberstorm MkII as a modest replacement. The
4000T was all SCSI so I was so pleased yesterday to get
the SCSI module for the MkII. 

Not the Cyberstorm PPC that I had dreamed of, but I guess
a good lesson that old stuff doesn`t last for ever. Shame
that.

Anyway, I have never really understood just how the 
A4000T ribbons work. There really are quite a lot. The
A4000T has seperate hard disk, sound and video cards
which connect to the motherboard. There is also SCSI
on the motherboard. Thing is the Cyberstorm has one
ribbon that goes to a CD drive and I can`t see why.
Even more puzzling is this four way splitter that
connects to the floppy drive... Cus there is a modified
ribbon that I can`t find a home for. See images below.
I have always thought, just maybe, if I could connect
this back up, the computer would work again... A big
maybe.



Puzzling Ribbon
---
A2386SX: Bridging on the A2000: Feb 4th 2007
Entry 0729: Blog: 5
---
The A2386SX: Bridgboard

Never one to resist having a play I decided to rip that
damaged battery from the A2386SX bridgeboard and see if the
old beauty was still working. For those that don`t know, the 
A2386SX is a Zorro II card that emulates a PC 386 at various
speeds from 16Mhz, 20Mhz and 25Mhz. The card will work much
slower than the actual PC it emulates. Normally these boards
are hooked up to a 5.25" floppy drive. I have seen Amigas
running as PCs in this way ( strange concept ) With this card
you can actually use the Amiga internal floppy drives as
floppy drives
Anyway I dragged out my favourite A2000 and very quickly 
slotted in the card. I removed the deadly battery first
I then zoomed into the Amiga download area and got the 
software which I uncrunched onto disk along with SysInfo
to check the card was working...

The link to that software is here...

CBM-PCInstall.DMS
Anyway, a few steps forward from...
' write DMS work:dms_stuff/CBM-PCInstall.dms TO DF0: '

And I had the disks in my hand... PCInstall and the SYSINFO TOOL

With card installed I booted up and all went fine. SYSINFO recognised
the Zorro II card but no serial number. No problem. I ran the
software but it became apparent that I needed to get a hardware
guide from somewhere. I may even have one in the vault. And so 
starts yet another project... Thats the way it is here... Do
take a look at the pictures below. And note the A500 tucked in 
on the left. All very cramped on the Amiga Workbench.


Check out this link....
A2386SX Bridgeboard at http://amiga.resource.cx/photos/a2386sx

WHAT I READ:

IBM AT emulation 
80386 SX @ 16 / 20 / 25 MHz (32 bit internally, 
16 bit external bus) 
Optional 80387 FPU 
Sixteen ZIP sockets accept up to 8 MB RAM 1 MB factory installed 
Supports 256k×4 or 1M×4 page mode ZIPs, 80-120 ns or faster 
Accepts ZIPs in groups of four 
64 kB AT compatible BIOS upgrading the BIOS and fitting a 
ZIP to SIMM converter makes possible to use 16 MB RAM 
128 kB dual-port RAM for data exchange between the 
BridgeBoard and the Amiga can use a PC hard disk, virtual drives 
on Amiga partitions (hardfiles), you can even have an Amiga 
partition on the PC hard drive 
PC floppy drives can be used in an internal bay, Amiga 
floppy drives can be used as PC only or shared, external 
Amiga drives can be connected directly to DB23 floppy connector 
of the BridgeBoard 
Only two floppy drives are accessible by the BridgeBoard 
the Amiga supports MDA (monochrome) and CGA modes through 
the native display (CGA 640x200x2 or 320x200x4 modes) - 
you can toggle between Amiga and PC screens 
with an ISA VGA board a separate monitor is needed 
The card uses the Amiga's serial or parallel ports for printing 
For modems it can only use an internal ISA modem or serial card 
PC beeper on board 
When installed, only 6 MB of the Zorro II address space is 
left for other expansion cards 


A2000 with A2386SX Bridgeboard
---
More scuzz rants: ' Let's go Round Again ': Feb 4th 2007
Entry 0729: Blog: 6
---
Modern Computing: Why I hate it so much.

OK... I admit I gave into the darkside and hooked up an
XP machine with broadband... Deep sigh ..... OK Not something
I wanted to do. I have struggled longer than most to retain
the old dial up and an outdated MS product in the form of
Win98, as a primary support to the Amiga. I knew that XP
wouldn`t be the same, and I knew it would try to seduce
me into staying on the darkside, forcing the Amiga and
retro into the pit of doom. Well for a month the sweets
in the shop were very nice indeed. Life was speedy and
internet browsing became less of a grind. Tesco was 
easily accessible, as was my website and hosting company.
I even treated myself to an online game.... 

But then....

I became ever more drawn into the cycle of purchasing new
kit... first came the memory stick, then the wireless
cards and another game. Soon I was looking into an external
hard drive to house all your internet downloads.. Even
worse I started to think of a bigger better machine... Along
with the shopping there was tossed into the trolley mags
on Vista and Wireless networks. The possibilities seemed
endless. I had entered into the modern arena....

But stop.... Who was driving who... Was I happy ? No !!
And why.. Cus you could see that there was never going
to be an end to it. Just when you thought you were happy
another gadget would appear, and another great deal...

scuzz sat quiet... reflecting. I had played that stupid
moronic game on the laptop to death.. And there was no
story, just mindless levelling up that was going to take
an eternity.. And then when your hooked you need to buy
more credits to continue. 

Took me just one month to drain everything of worth out
of seven years of isolation from all things modern about
computing. And when I looked hard into its demanding
eyes I saw an ice cold world of ' nothing '. Totally
without heart. I dragged myself from its grasp and
again I was free... Free to joy in real computing.

To the Amiga Room.. My ' Sanctuary '. Well the blessed
monks calmed my spirit and I returned to the true
faith. No false gods here demanding mindless obedience.

I appreciate that stepping off the conveyor you do get
left behind... But when I look ahead at all the sheep
mindlessly playing to the MS tune I can`t help but feel
that there is no peace for any true computer lover on
that road, cus you truly live from one best next thing
to the next. The skill of the merchants has always been
to make the loop impossible to get out of. Well you can
get out the loop, but you have to make sacrifices. And
so I stand here with the unloved, disregarded  and 
forgotten and play to my tune ' Lets go Round Again '.

Happy.












---











If you can only see this CONTENT window 

then click the image above for the full site








Last updated 4th February 2007


Chandraise Kingdom