ScuzzBlog: 29th January 2016 Subject 01: How Many Amigas: My personal heaven
Subject 02: House of Sian: Return of the PD House
Entry 1601: Blogs: 2

---
How Many Amigas
Entry 1601: Blog: 1
---
My personal heaven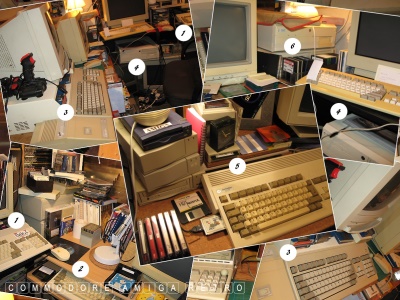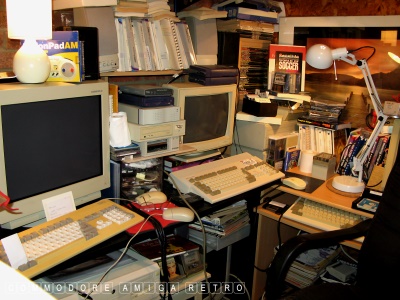 This is my workshop where I have lived these last four
months in what seems continuous rain outside. The days
are very short and there definitely does seem to be more
dark than light these days. Thank goodness I have the
Amiga to brighten up my days. 

Though I tend to use the same machines for various tasks
the workshop area is in a state of flux. The place gets
cut right back when I am photographing and repairing
items. However, since around September I have spent the
vast majority of time copying and archiving PD disks.

To do this I set up two Amiga 4000s and managed to reconnect
my beloved Amiga 1200 to the network. This made transfer 
of files to othe PCs with writable CD and DVDs much easier.

I have also spent a lot of time on the A500 so I needed to
hook up the GVP HD+ which has been a joy to use.

So to the question, just how many Amigas do I currently
have active.

01: Amiga 1200 with OS3.9, internal 3.5" and external SCSI
drives and ZIP. This machine has a parnet connection to
my A4000.

02: Amiga 1200 games machine with large hard drive full of
Amiga games. Currently playing SWOS and Settlers. There
are times when processes take a while to complete and it
is great just swinging around and playing a game or two.
I also like playing snooker and the odd bit of golf.

03: Amiga 500 with GVP side car. You need a basic older
Amiga to play many of the demo disks which just will not
work on the 1200 or 4000.

04: Amiga 4000d with massive hard drive. This computer is
archiving and storing all my PD disks. The computer is linked
via Parnet to the A1200.

05: My treasured and oldest Amiga 1200. This computer is 
networked to several PCs in the house. It has a Blizzard SCSI
so is connected via this to the SCSI hard drives and ZIP.
This computer is generally always active. A great machine.

06: A4000 with Picasso hooked up to the big Mitsubishi. Not
used that often, though still has a lot of useful stuff on
it. Generally test under 3.1 disks and the like.

Well there you have it. My Amiga home. And trust me those
computers get a hammering. They all have their individual
uses and I would be lost without them. Happy days


---
House of Sian
Entry 1601: Blog: 2
---
The return of the PD House

A while back I received a request for some PD disks. In
searching for the disks I realised how vulnerable my disk
collection was. I decided to set too and copy as many of
the disks as possible. I have been doing this for months
now and still haven't completed the task.

I then got to thinking whether I could bring a little 
joy into the Amiga world by sharing the disks that I have.
And so was born the House of Sian and my very own PD House.

I have created adf images of thousands of disks and I will
now steadily transfer these to my website and share them
with the world. Hopefully others can benefit from what I 
have. Below are a small selection. There will be a lot more.

Check out the listing under the House of Sian disk in the
main menu on the website. I included my most favourite
top 100 cover disks that I have used extensively.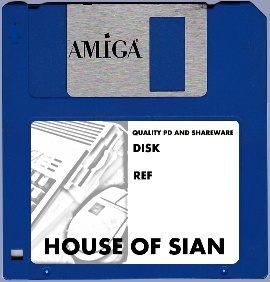 PD DISKS - DEMO - Vol 001
Contex - Divine Intervention | 17Bit - Now Music 14 | Radish's The Gunners Acid
Arcade Snooker | Algo Music | AMOS Pro
Easy AMOS 1 | Easy AMOS 2 | AMOS Sam