C=
Commodore Amiga 1200
In addition to the twenty odd A1200's I have
I was fortunate enough to be offered no less
than seven A1200's recently. How could I resist
My latest A1200's for April 2007

There were also two A1200' in boxes
with this little collection... Loadsa fun
Most of the A1200's were fitted with cards
Amiga 1200 (A1200)
So you`ve bought an A1200
Wanna know what to do with it ?
Here`s what I did with an £11 Amiga A1200 from Ebay

Features

Motorola 68EC020 microprocessor running at 14 mHz
AGA custom chipset offering graphics with 256 colours from a
palette of 16.8 million in all colour modes
Built-in de-interlacing of NTSC and PAL video modes.
Up to 2 MB 32-bit Chip memory
AT IDE hard drive interface (16 bit)
Integral full-size keyboard with numeric keypad
PCMCIA "credit card" memory/accessory slot
Internal 150-pin local bus CPU slot
Expandable to 8 MB Fast memory
RGB, colour composite, and RF (television) outputs.
Built-in 880 KB floppy drive
Four-voice stereo sound output.
Optional internal 2.5-inch hard drive
PORTS
Mouse Controller Two 9-pin male ports for attaching
a mouse, joystick, light pen, or other controller. Attach
the mouse to port 1, marked MOUSE.
FLOPPY port A 23-pin female port for attaching an
external floppy drive
SERIAL port A 25-pin male port for attaching a
serial device such as a modem, MIDI interface, or serial printer
PARALLEL port A 25-pin female port for attaching a
parallel device such as a Centronics compatible printer or
a scanner
AUDIO jacks Two RCA jacks for attaching the Amiga`s
left and right audio output to a monitor, speakers, or stereo system
VIDEO port A 23-pin male port for attaching an analog RGB
monitor to view the Amiga`s video output
COMP jack An RCA jack for attaching a composite video
monitor or connecting a vido cassette recorder.
RF MODULATOR An RCA jack for connecting to a television.
The associated controls vary depending on whether the Amiga
is NTSC or PAL
POWER port A square 5-pin female port for attaching the
Amiga`s power port
VIDEO
VIDEO port Analog RGB monitor (multiscan/15kHz/VGA/SVGA)
Television with SCART connection
RGB monitors
Multiscan A Multiscan ( multiple horizontal scan rate or
"multi-sync" ) RGB monitor provides the greatest flexibility
A multiscan monitor is required if you wish to use display modes
that have different horizontal scan rates
A 15 kHz analog RGB monitor can display only the Amiga`s
default display mode and other 15 kHz scan rate modes
A VGA or SVGA type monitor can display the Amiga`s
de-interlaced and higher resolution modes, but not the standard
15 kHz video modes
SCART With the proper adaptor cable, a television with a
SCART input can be used as a 15 kHz RGB Monitor.
Technical Specification
Clock Speed NTSC 14.32 mHz
Clock Speed PAL 14.19 mHz
Processor Surface-mount Motorola 68ECO20 microprocessor
Custom Chips AGA multichip coprocessor system
(Alice, Lisa, Paula ) for video, graphics, sound, and DMA
Fast Memory Expandable to 4 MB of 32-bit RAM in CPU slot
additional 4 MB od 16-bit RAM in PCMCIA card slot
Chip Memory 1 MB or 2 MB of 32-bit RAM; second megabyte
on motherboard or on internal expansion module
ROM 512 KB
Internal Interfaces AT IDE ( 40-pin header )
Internal Interfaces CPU local bus ( 150-pin edge )
Keyboard Integral, 96 keys; international ( configurable
keymap )
Internal Disk Drive One internal 3.5-inch floppy drive
standard (880 KB formatted maximum ). Mounting provision for
2.5 inch AT IDE hard drive
External Disk Drives Up to two compatible floppy drives
Sound 4 independant voices configured as two stereo channels
Power Supply 23 watts switching
Environment Operating 0-45 degC (32-113 degF)




My Amiga Workstation
My original 1993 Amiga A1200 as it looks today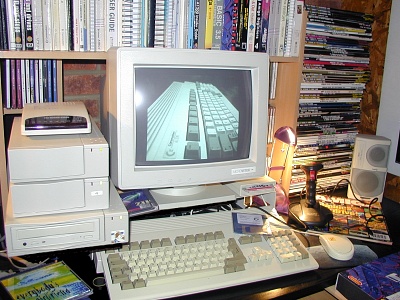 My collection of Amiga A1200's
Sue | ATX | Tank | Daniella | Emma | Moot
Terai | The Lady | Magicman | Chantel | A500 | Wingman
Sir Prize | Spike | Unfinished Business
On the face of it the 15 A1200's I have all look the same.
Not so ... Because under the hood they are all pretty
different, as demonstrated by Amigas Emma, Terai, Chantel
and A500 above.... There is a reason for the names, by the way.
Bits 'n' Pieces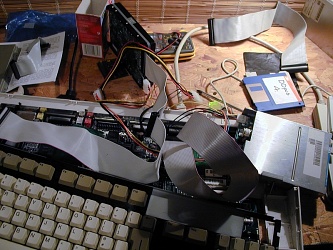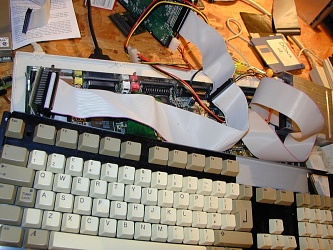 From the droppings off the table from my tower project
I created yet another A1200... Amazing really
Check out the latest Amiga 1200 fun day...
` A new day ~ Whots up ` ... lights on but nobody in
Mouse port failure and no floppy... whoo er !
FUTURE PROJECT

---

If you can only see this CONTENT window
then click the image above for the full site
Last updated 13/09/08