Day Nine
Setting up the Modem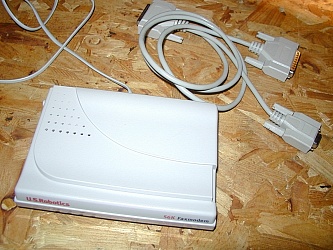 You can use a modern 56K modem such as the USRobotics
plugged into the serial port. Be sure to get the correct
connector as the 9 pin won`t work
THE INTERNET SERVICE PROVIDER
The best way to do this I found was to sign up
with one of the free providers, like FreeUK using
a PC if you can get to one, and then going into
Outlook Express checking the account and simply
making a note of the POP3 mail and smtp servers
together with your email address and password.
It is then just a case of inserting these into
your TCP/IP stacker.. see below. You will also
need the telephone number to ring out which the
dialer the provider gives on the PC will show
Simply go onto Dial Up Networking and right click
on properties for the respective dialer ie FreeUK
THE TCP/IP STACKER
Whilst Nordic Global are no longer shipping their
excellent MiamiDX, the archive is still available
from Aminet. The installation is very simple and
the step by step instructions make it pretty well
impossible to install incorrectly. There is a timeout
sadly on the demo, but you may be lucky in obtaining a key

MIAMIDX Short: TCP/IP router stack (main archive)
Author: kruse@nordicglobal.com
Version: 3.2b2
Requires: OS 2.04 or higher, 68020+, MUI 3.8+


Words from Aminet

This is the main archive for Miami Deluxe 1.0c.
Miami Deluxe is an easy-to-use TCP/IP stack for Internet
access and access to local networks, complete with
dialer, PPP, (C)SLIP and auto-configuration tools. It
supports multiple interfaces, routing IP-NAT, SOCKSD,
dial-on-demand and much more.

You will also need other archives -- see below.

Minimum requirements:

- Any Amiga with Kick/WB2.04 or higher

- 68020 or higher

- MUI 3.8 or higher

Miami Deluxe 1.0c is distributed across two archives: one
main archive and one GUI module.

- MiamiDx10c-main.lha: Main archive. *Everybody* needs to
download this archive.

- MiamiDx10c-MUI.lha: MUI user interface module for
MiamiDx. Requires MUI 3.8 or higher.

At this time you need to download both archives.

Holger Kruse
kruse@nordicglobal.com

Check the link below
Miami Archive

You may find you need one or two libraries and installers
to unpack software and run applications. You will find
all these on Aminet... like the latest installer and reqtools
and ofcourse MUI 3.8



MUI 3.8
You really won`t get very far on an Amiga without
MUI and this can still be purchased. You can opt to
buy the USER INTERFACE key or run the demo. Personally
I opted to buy the key and was emailed this by return
having purchased this through a PC on line

MUI installs automatically so there are no problems
with the installation

For MUI 3.8 Check the link below
MUI Software


The Mail Reader
For my money there is only one mail reader and
this is YAM. The software is free. I would recommend
getting it from the YAM website as the all the five
archives are here and they are not corrupt. Although
it looks as though you don`t need all five archives
you do need all five and you must un-archive them
into a single folder. You will need LHA which is an
Amiga tool that resides in your C drawer on your workbench
Hopefully you have DOPUS, which makes life all that easier.

Again, its just a case of firing up the install icon
and installing the software on your system. When
running YAM you will need your POP3 and smtp names,
like pop3.freeuk.net and relay.freeuk.net or
pop3.virgin.net and smtp.virgin.net, your domain
name like freeuk.net and your mail account name
and password. Its that simple.

For YAM Check the link below
YAM Website


BROWSER
I purchased AWEB-II off Ebay, but there are several
about. Like Ibrowse which all do the job of surfing
As ever the software is self installing, and in the
case of AWEB, there is no further setting up of the
software.

For AWEB Check the link below
AWEB Site


Rememeber that for both mail and internet you need
to go on-line with MIAMI to get the stack running
Also remember to tell the payer of the telephone
bill what your up to... Happy surfing.
So you`ve bought an A1200

Wanna know what to do with it ?
Here`s what I did with an £11 Amiga A1200 from Ebay

Days 1 to 3 ~ She`s alive !

Day 4 ~ A case of the DDs
Fitting a replacement floppy drive

Day 5 ~ The Blizzard Cometh
Fitting an accelerator

Day 6 ~ Feed the Squirrel
Fitting a CDRom drive

Day 7 ~ Hard drivin` the A1200
Fitting an external and internal hard drive

Day 8 ~ ZIP-it` the A1200
Fitting an Iomega ZIP drive

Day 9 ~ A brighter Outlook ` the modem and the A1200
Modem at the Ready A step by step guide to getting on-line

Day 10 ~ Back to the Future ` ... in need of a new heart
Not just a new OS But new ROMS also